Change the World together with Healy
We are continually monitoring the COVID-19 (coronavirus) threat very closely, with guidance from official authorities and the World Health Organization, assessing potential impact on our business around the world. Due to these circumstances, we have cancelled all corporate roadshows worldwide until further notice. To keep the meeting cycle going, we will hold all scheduled roadshow meetings and the member meetings online, so you will receive the same information and benefits, e.g. promotions, as at the live meetings.
Healy World Members' Meetings
Speaker:
Carsten Lange – Global Master Distributor
Georg Döller – Healy World Senior President
Marcin Baumgart – Healy World Vice President
Chrisjan Peters – Healy World Senior Director
Volkan Kurt – Healy World Vice President
Language: German
Time: 2:30 – 3:30 Uhr Training
Time: 4:00 – 5:30 Uhr Presentation
19/05/2020 Healy World Update Call for all Healy Member
Speaker:
Dirc Zahlmann – Global Master Distributor
Carsten Lange – Global Master Distributor
Language: English
Central European time: 6:00 PM
September 10th, 2022 – Canada Grand Opening Event (Toronto)
Speakers:
Christian Dorner – President & CEO Healy World
Luciano Garcia Rangel – Chief Commercial Officer Healy World
Jessie Arsenault – Head of Sales Canada
Shyam–Nam Halper – TimeWaver/MagHealy Expert
Carsten Lange – Healy World Master Distributor
CJ Peters – Healy World Top Leader
Language: English
Eastern Standard Time: 10:00 AM – 5:00 PM
Healy World Online Events
Change the world together with Healy
Start your business in the healthcare market
International distribution of the Healy is starting now! Become part of our unique and highly qualified team.
We are offering you potentially lucrative opportunities for gaining both additional and primary income.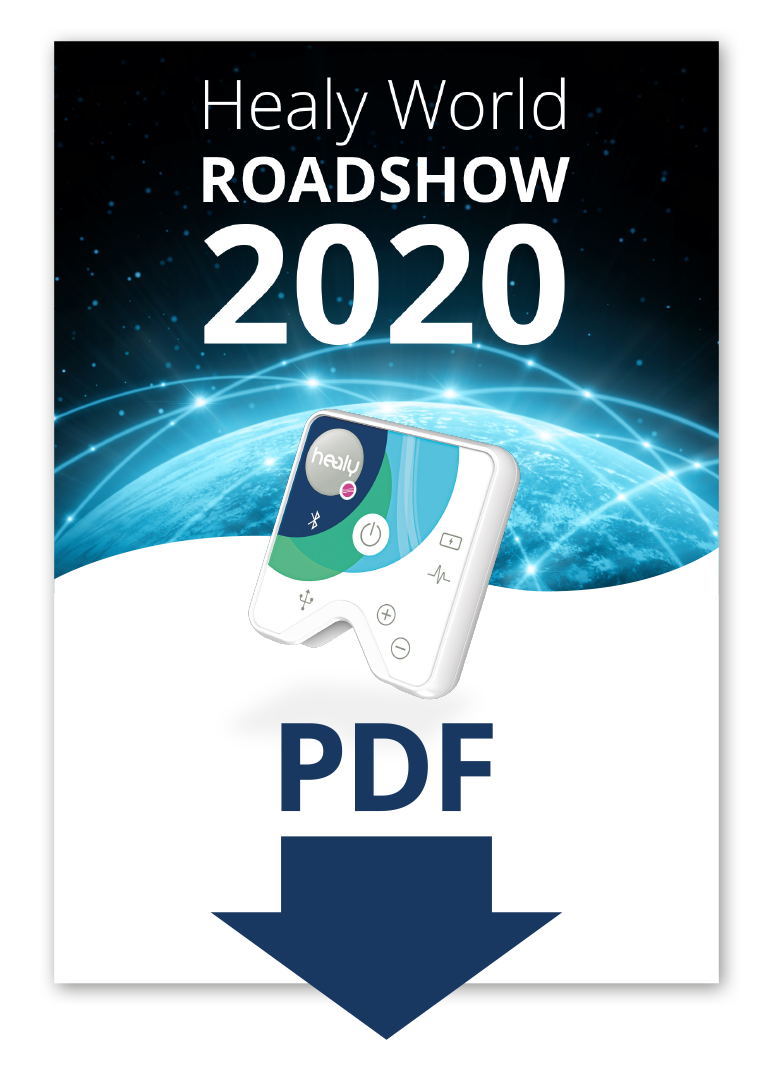 Healy is your ticket to the worldwide future of social selling. Become part of our unique success story!
Request more information and let us know if you're attending one of the roadshow events.
ADMISSION IS FREE
Refreshments are served during the break.

Notice:
In Canada Healy is a medical device authorized for sale by Health Canada for the temporary relief of pain associated with sore and aching muscles in the shoulder, waist, back, neck, upper and lower extremities due to strain from exercise or normal household work activities and symptomatic relief and management of chronic, intractable pain and relief of pain associated with arthritis, neuralgia, myalgia and fibromyalgia. Healy also has non-medical applications that use Individualized Microcurrent Frequencies (IMF) that have not been reviewed or approved by Health Canada. The IMF programs of the Healy are not intended to diagnose, treat, mitigate or prevent a disease, disorder or abnormal physical state (or any of their associated symptoms), nor do they restore, modify or correct the body's structure or functions. The content on these pages is for information and educational purposes only. No health, medical or therapeutic information or advice is provided or intended to substitute for the diagnosis, treatment and/or advice of a healthcare professional. You should always seek such advice from a qualified healthcare professional.
While Healy World endeavors to keep the information contained in these pages current, no warranty or guarantee concerning the accuracy, suitability or timeliness of information is made. Healy World is not responsible for any loss or damage resulting from the use of the information provided on these pages. All information is presented on an "as is" basis and responsibility for its interpretation and use lies solely with the user.
Healy World does not endorse nor have responsibility for the content of any other websites linked to or from this website.
Healy World, with the advice of its medical advisory board, allows its Members to only make claims that are contained in company materials meant for public distribution. Please contact the company concerning any claims about which you have questions.